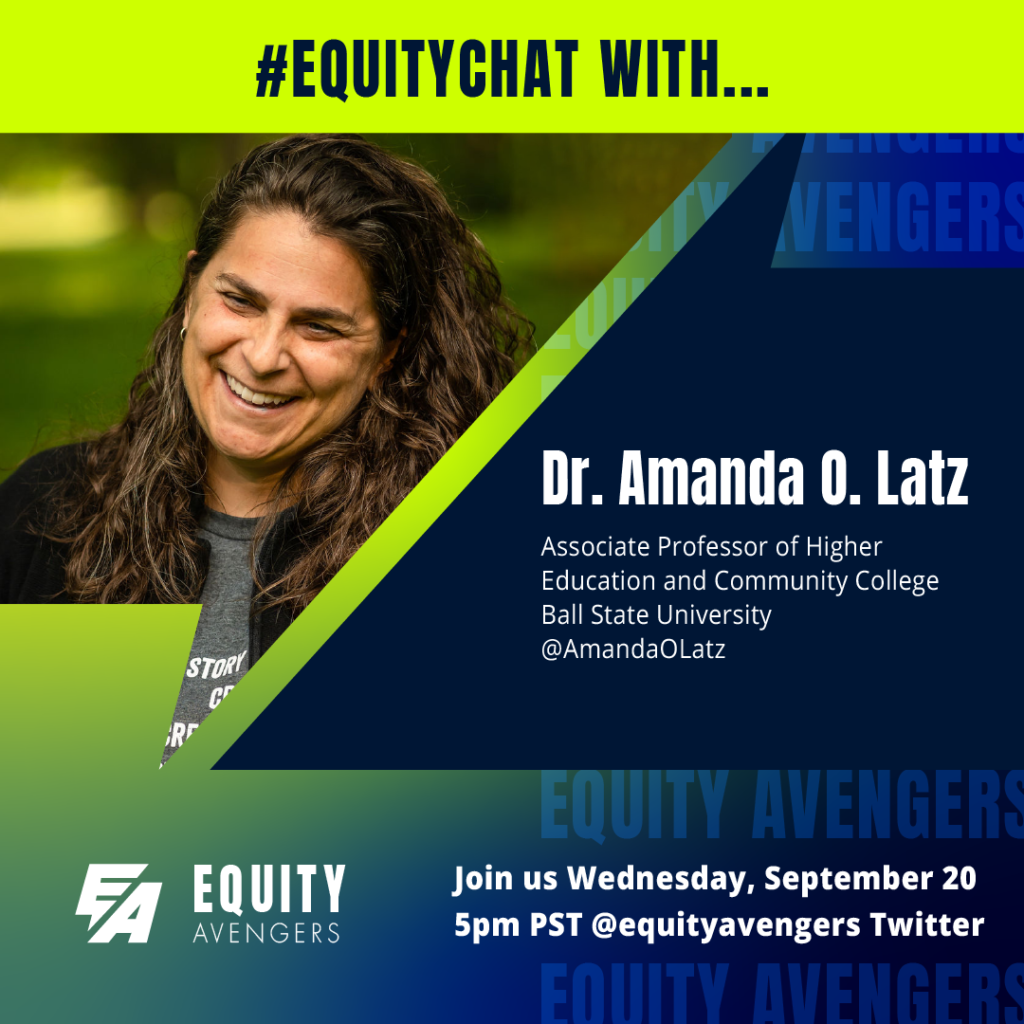 SAN DIEGO, Calif. (Sept. 13, 2023) – The Equity Avengers announce the return of #EquityChat, a weekly Wednesday evening conversation on Twitter, on September 20, 2023, with featured guest Dr. Amanda O. Latz, associate professor of Higher Education and Community College at Ball State University and author of the new book Community College Student Mental Health: Faculty Experiences and Institutional Actions.
The Equity Avengers are Compton College President and Chief Executive Officer Dr. Keith Curry, Evergreen Valley College President Dr. Tammeil Gilkerson, and San Diego Mesa College President Emerita Dr. Pamela Luster. Their mission is to engage, educate and empower higher education organizations and individuals to eliminate student opportunity and outcome gaps by cultivating partnerships and resources necessary to embed racial equity, critical humility and learning across educational systems.
"We're thrilled to have Dr. Latz serve as our season four opening guest," Curry said. "She is one of the most influential higher education researchers studying the community college space today. And with the release of her new book, we couldn't think of a better person to engage with for an exciting and dynamic season four of #EquityChat."
At Ball State, Latz is also Director of the Student Affairs Administration in the Higher Education master's program and Director of the Graduate Certificate in Community College Leadership. Her research passion lies within the community college sector. In particular, she is interested in the lived experiences of community college students and faculty. She believes gathering, curating, and sharing these experiences can lead to more authentic and empathic understandings, which hold promise for shaping more effective, humane, and student-centered pedagogies, policies, and practices. One approach she has found profoundly effective in this work is the photovoice methodology. As such, another area of her research is focused on the promise and advancement of visual methodologies and methods in higher education.
#EquityChat is held weekly on Wednesday evenings from 5 – 6 p.m. on Twitter from September through June. Follow the Equity Avengers on Twitter @EquityAvengers or LinkedIn at linkedin.com/company/equity-avengers.
To learn more about the Equity Avengers, visit equityavengers.com.
Media Contact:
Lauren McDermott
lauren@25comm.com
(415) 933-9975
About the Equity Avengers
The Equity Avengers are community college presidents Dr. Keith Curry, of Compton College and Dr. Tammeil Gilkerson, of Evergreen Valley College, and President Emerita Dr. Pamela Luster of San Diego Mesa College. The Equity Avengers have made it their mission to lead the charge for a more equitable higher education landscape, increasing access for those historically marginalized by academia.
The Equity Avengers host the popular #EquityChat on Wednesday evenings on Twitter and are regularly invited to speak at state and national conferences to share their vision. The College Futures Foundation has generously supported the Equity Avengers' mission through a grant, allowing them to support and develop leaders who act and drive large-scale change toward achieving racial equity in higher education nationwide.