Gilkerson recently accepted an invitation from #EquityAvengers founding partners Keith Curry and Pamela Luster to partner with them as they lead the charge for a more racially-equitable higher education landscape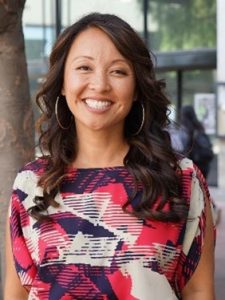 (San Diego) – #EquityAvengers is pleased to announce the addition of a third team member, Evergreen Valley College President Tammeil Gilkerson. Founding partners Keith Curry, president of Compton College, and Pamela Luster, president of San Diego Mesa College, recently extended the invitation to Gilkerson to join them in their mission to lead the charge for a more racially-equitable higher education landscape. Throughout her educational and professional career, Gilkerson has demonstrated a commitment to social justice, equity and inclusion. She is currently a leader in a number of statewide efforts to find solutions that address students' basic needs, support undocumented and mixed-status students and improve the quality and delivery of distance education. Her dedication to advancing economic opportunity and empowerment for people of color align with the #EquityAvengers mission. 
"Growing the #EquityAvengers team with such an incredible team member like Dr. Gilkerson is a game-changer for our organization," said Dr. Pam Luster. 
Curry and Luster established #EquityAvengers in 2019 to highlight their united work addressing community college students' needs, including diversity, equity and inclusion. Since its founding, #EquityAvengers has presented at national and state conferences and hosts weekly conversations on social media about what diversity, equity and inclusion look like on college campuses. 
"We have been intentional and specific about how to grow #EquityAvengers and Dr. Gilkerson is an outstanding foot forward in that direction," said Dr. Keith Curry.

In 2022, #EquityAvengers will launch a website and podcast. The initiatives will help Curry, Luster, and new member Gilkerson to continue spreading the #EquityAvengers message while advocating for racial equity in higher education nationwide. 
"It is a privilege to join alongside Dr. Curry and Dr. Luster in this focused work to eliminate racial inequities in higher education. I'm inspired by the innovation and intentionality in which many institutions approach their equity work, but data nationally illustrates the need to do more. I genuinely believe we can change our institutions to improve outcomes for historically marginalized students. It starts with us." said. Dr. Tammeil Gilkerson.