SAN DIEGO, Calif. (Nov. 1, 2023) – Dr. Adrián Trinidad, Associate Director for Community College Partnerships at the University of Southern California (USC) Race and Equity Center, will join the Equity Avengers as their featured guest on #EquityChat on Wednesday, November 8, 2023.
In partnership with the USC Race and Equity Center, the Equity Avengers recently released a graphic novel "Avenging for Equity: Race-conscious Leaders Transforming California Community College Pathways," now available for download. The graphic novel, illustrated by digital equity nonprofit BRIDGEGOOD is part of USC Race and Equity Center's Solutions Briefs for California Community Colleges that offer practical solutions to pressing racial equity problems and everyday challenges with succinct recommendations focused on practice.
At the USC Race and Equity Center, Trinidad supports community colleges by creating racial equity resources through partnerships with system leaders, researchers, funders and advocacy organizations. His research has focused on the sensemaking and implementation of equity reforms and policies, organizational change cultures, and race-conscious leadership. He has published peer-reviewed articles in journals such as Educational Policy, International Journal of Qualitative Studies in Education, and Community College Journal of Research and Practice. Additionally, he has published in several academic press books, reports and briefs and has been quoted in outlets such as the Los Angeles Times, Inside Higher Ed and Cal Matters.
Trinidad leads a grant-funded initiative of racial equity resources for California Community Colleges, which includes organizing a research and practice solution brief and report series focused on various racial equity topics, the development of a statewide student ideation challenge to center student voices on equity issues and leading a Racial Equity Commission to propose a racial equity framework for California Community Colleges. He is also part of a core leadership team for Takeoff: Institutional Innovations for College Men of Color. The initiative will support 15 community colleges with funding and a professional development program for two years and form national models that advance success for college men of color.
At USC, Trinidad leads an alliance of more than 40 California Community Colleges that participate in monthly professional development sessions on racial equity issues, administer campus-wide assessments of campus racial climate and join virtual communities of practice through an online equity resource platform, Equity Connect, of which he helped lead its development.
Trinidad earned a Bachelor of Arts in Sociology, a Master of Arts in Public Policy, and a Doctorate in Urban Education Policy, all from USC. His dissertation won the Romano Dissertation of the Year Award from The Council for the Study of Community Colleges. Before USC, he was a proud Beaver, earning an associate degree from Los Angeles Trade-Technical College.
#EquityChat is held weekly on Wednesday evenings from 5 – 6 p.m. on the X platform from September through June. Follow the Equity Avengers on Twitter @EquityAvengers or LinkedIn at linkedin.com/company/equity-avengers.
To learn more about the Equity Avengers, visit equityavengers.com.
About the Equity Avengers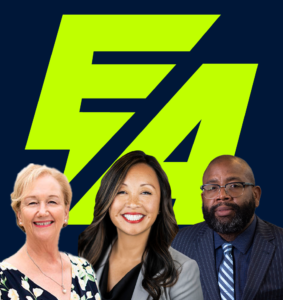 The Equity Avengers are community college presidents Dr. Keith Curry, of Compton College and Dr. Tammeil Gilkerson, of Evergreen Valley College, and President Emerita Dr. Pamela Luster of San Diego Mesa College. The Equity Avengers have made it their mission to lead the charge for a more equitable higher education landscape, increasing access for those historically marginalized by academia.
The Equity Avengers host the popular #EquityChat on Wednesday evenings on Twitter and are regularly invited to speak at state and national conferences to share their vision. The College Futures Foundation has generously supported the Equity Avengers' mission through a grant, allowing them to support and develop leaders who act and drive large-scale change toward achieving racial equity in higher education nationwide.